FREQUENTLY ASKED QUESTIONS
ANSWERS TO THE COMMON THINGS EVERYONE WANTS TO KNOW
It's all about moments ... not just poses.

Your wedding photos are about so much more than just endless detail pictures and tons of posed photos. My approach is the most important thing I can offer to you. It centers on what I said above; it centers on moments and not just endless poses from an hours-long photo session.

The wedding day is all about relationships, emotions, you, your family and friends falling into the swirl of the day, reacting ... living in an important time in your lives. Possessions and decorations become the backdrop ... for you and who you are on your wedding day. It's all about the two of you celebrating this milestone surrounded by the most important people in your lives. That can be filled with quiet emotion. That can be a screaming party. It can be small and intimate or big and brash.
The wedding photos I create for you will be your unique photos, ones which will help you remember and re live your wedding day. Not idealized photos from some stock check list which cater to some industry person's notion of what a wedding should be. Or ones that seek out vanity as the ultimate expression of who you are.
You want real photos which are ones where you look like your best self, natural, relaxed, not in some super contrived pose.
You want moments ... not just poses.

And you want to know how I'm going to help make that happen ....
---




How soon should we book our wedding photographer?
As early in the process of planning your wedding as possible.
Ideally right after you sign a contract for your venue and commit to a firm wedding date!

There are about 20 prime week ends available during "wedding season" here in our part of the country.

Peak week ends from late April through July 4th, and from late August through Halloween always book up completely, sometimes over a year in advance.
Also, if one weekend day is booked on my calendar, the rest of the weekend may be closed off. I don't shoot 2 or (just ... no ) 3 weddings per weekend. So one booking could close off an entire week end for that year.

Because of hot summer weather, dates between July 4th and August 20th are available for a booking at my discretion, depending on the specifics of the wedding.
How many photographers are on your team?
I'm a trained photojournalist and full time photographer with decades of experience.
So you won't automatically need 2 shooters just to make up for the shortcomings of someone else who is an inexperienced, self-taught photographer. You'll get tons of images from me if I shoot your wedding solo. Of course, a second experienced professional photographer can always be added to any wedding package. Most weddings, I work alone and do so quietly and unobtrusively. That isn't possible when several people are moving around. Your wedding day isn't a Hollywood production and I'm a hard worker. A person with little experience operating a camera adds little to the wedding day coverage, and is what so many people call a Second Shooter.
After all, you're attracted to my photos which you see here on my website and I'm the one who can produce that style and content. If you're not sure one photographer can cover the day, please contact me and I'll give you the links to several galleries where you can see how I work on my own and how productive I am.
We can add a second shooter for part or all of the day if there is a genuine desire for one or a specific logistical need.
What are your prices?
Contact Me Today At This Link and fill out an inquiry form and I'll be in touch quickly with some information. No obligation ... no pestering, ... guaranteed.
Finding the right wedding photographer is all about the photographer's style, how their images "feel" to you, their experience and what they bring to your wedding day, not just the price. Spend a few minutes looking at my images and learning about my deep experience. Let's see if we'd be a good match!

What are your packages?
A La Carte is the best and most flexible way for my couples. So there are no packages. It is the most customize-able for my clients, helping meet their unique wedding and budgetary needs. Get in touch using this link, fill out an inquiry form and I'll get back to you quickly with some information.
Can you hold the date for us?
Dates are booked and held once you sign a contract, pay the non-refundable retainer of $750 and I sign and accept the contract. Until then, dates remain open, first come-first served.
What is your payment schedule?
A signed contract and nonrefundable retainer of $750 is required to book and reserve a date. The remaining balance is due 30 days before the wedding. Credit cards are accepted.
We're having a small, off season, winter wedding ...
Outstanding! These weddings are always enjoyable. Let's talk about the specifics so we can put together a custom package for you. Because I offer A La Carte bookings instead of giant packages, it is much easier to create a custom collection of services just for you without haggling over getting a discount, or struggling over removing things from a package that you don't want (like print credits ... whatever those are ...).

Wedding photojournalism ... just a marketing phrase?
My degree is in photojournalism from Syracuse University from the Newhouse school. Part of my career was spent as a full time staff photographer, shooting tens of thousands of news assignments (seriously). My work has been published in news and consumer publications all over the world. Photojournalism defines my style and my approach to weddings. Interestingly, the concepts I outline here are now being repeated on more wedding photographer's web sites. But you can't just 'decide' you're going to 'be' a wedding photojournalist this week. It's not a template you can buy.
You've never hire a photographer before and have concerns ...
I am a full time photographer.
Photography has been and continues to be my life-long full time career.
Photography isn't something I do 'on the side' when I'm not at another day-job. So preparations have been made, systems are in place and commitment is strong. I have:
Full top of the line professional equipment with backups; cameras, computers and lighting
Professional image management systems with on and off site backups
Business insurance including general liability which venues require for photographers working on their premises
Connections to photographer all over the region ... and the country
Experience shooting hundreds of weddings and tens of thousands (seriously) of news and corporate assignments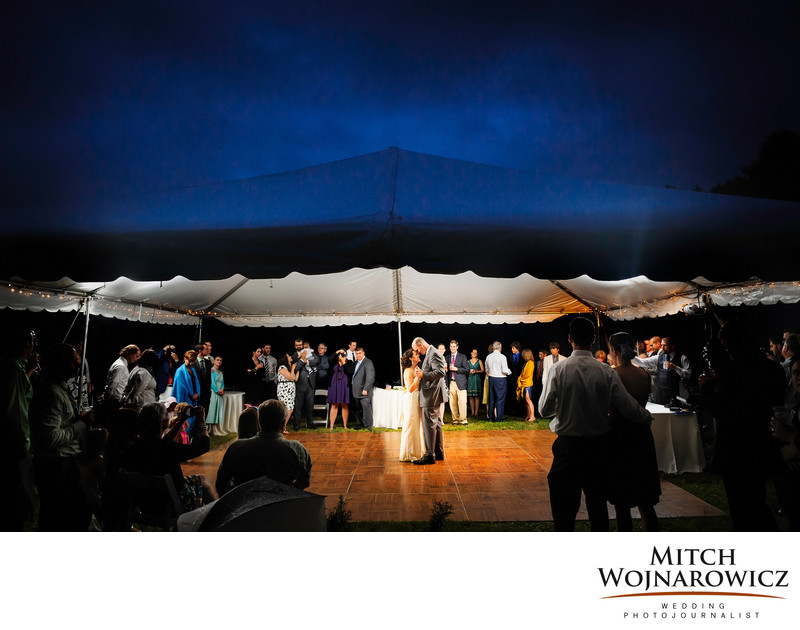 Who will be shooting the photos at my wedding?
Me.

This isn't a chain studio that sells you a wedding package then looks around for someone to do the work. You'll never get, or be offered, minimally experienced "associates" instead of me who are just developing or part time photographers who can't, or don't, run their own businesses. And I don't use private Facebook groups to look for $20 an hour second shooters.

We might want to add something to our collection of services...
You can add at any time to the services that you want for your wedding.
If you need more coverage time, want a book or an engagement session or something else, we can add those under separate invoice any time.
You can decide 4 weeks before the wedding that you want more hours of photographer time or 6 months after the wedding that you want a book or an album.
How soon will we see our photos?
You'll have your online proofing gallery within 6 weeks of the wedding. Digital files will be in your hands about 6 weeks after that.
How many photos will we get?
As many as it takes. My style isn't based on shooting 1 frame, then moving to the next spot on a check list after sitting down for 15 minutes. A situation is worked until I have what I want. Then I head off to the next situation that needs my attention or inspires me.
The raw images are edited down to the best ones from each situation, comprising 500 to 600 images on average as the the final collection from the wedding day. Images aren't discarded to hit some arbitrary number. You'll get photos from every situation I shoot. Shorter amounts of coverage or simpler weddings will produce fewer photos and a longer, larger events will produce more.
Keep in mind that this isn't a cheaper-by-the-dozen situation. You want quality choices and variations on those choices, a variety of situations shot, not just a promise of thousands of images from a cheaper-by-the-dozen business model.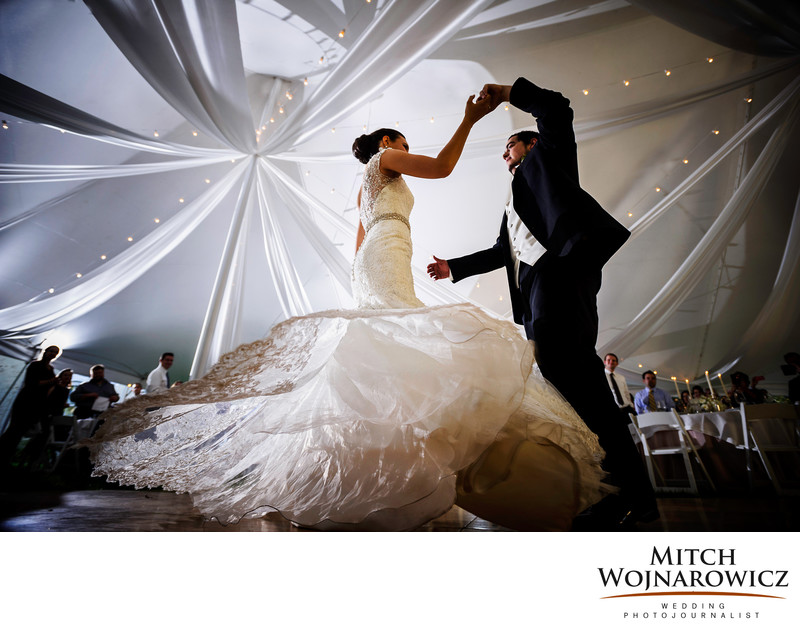 Do you retouch every image?
My style is very clean, modern and very 'straight' without lots of trendy effects such as making everything look like a faded 1970's snapshot. Or covering everything with a yellow wash. Each image is hand- toned and color corrected for color, contrast, cropping and doing whatever else is needed to make a pleasing image. These are what you'll receive as your digital files and the ones that will be shown in your online gallery.
Book and album images and art prints ordered from me are given my full creative attention and retouching. Local areas of color and contrast, selecting individual parts of the image, are worked to perfection. Skin tones, are gently retouched, keeping you looking real, just better rested. Distracting elements , such as the altar security camera or my nemesis the exit sign, are dealt with. Retouching is always available as an add on service for your basic digital files.
How much experience do you have? Is this a side job for you?
Full time photography is my life long career.

I'm a trained photojournalist, receiving my degree from Syracuse University's SI Newhouse School of Public Communications. My career began in the news business, working as a full time staff photographer, senior photographer and photo editor for newspapers for more than 2 decades.
Weddings became part of my career in the 1980's and to date I have shot hundreds of weddings in all sorts of locations, large and small. Packed away is a box full of awards from news and journalism organizations as well as from wedding trade groups.
We want pastel looking images. And you should bring some props to use. And we have a Pinterest feed and a checklist of all the photos we want ...
You are hiring a photographer for their style.
Style is the most important aspect to consider when making your decision to hire a wedding photographer.

If you want pastel or grainy, then hire pastel or grainy. If you want trendy or moody or soft or quirky or whatever, then look for a photographer who does that thing you are looking for, and does it well.
Photography isn't a universal "thing" where any photographer can mimic a million different styles. Look at the work the photographer shows. Those are the types of images you are going to get from them.

My style is very clear from the images you see in my portfolios and in my online sites: clean and modern with an eye towards dramatic light when it's available (or when I create it).
The images you see from past weddings are the sorts of images I'm going to shoot and this is my working style. If you want soft focus and pastel or some currently trendy look, I'm probably not the photographer for you.
Regarding lists, we work out a fine-tuned plan for the wedding day, outlining all of the formals and all of the people needed for them. We create a list of "informal formals" as well. If there's something special you are doing or that you'd like me to capture, I need to know. Otherwise working from a checklist, or giving me long lists of group shots, guarantees you won't get the photos you see here on my blog and on my web site. What you WILL have are many group photos and staged photos from your check list. I'm a pro with decades of experience who doesn't need a list from a magazine that says "bride and groom together, ... couple saying their vows ... first dance". Remember, I've done this hundreds of times and I'm a professional.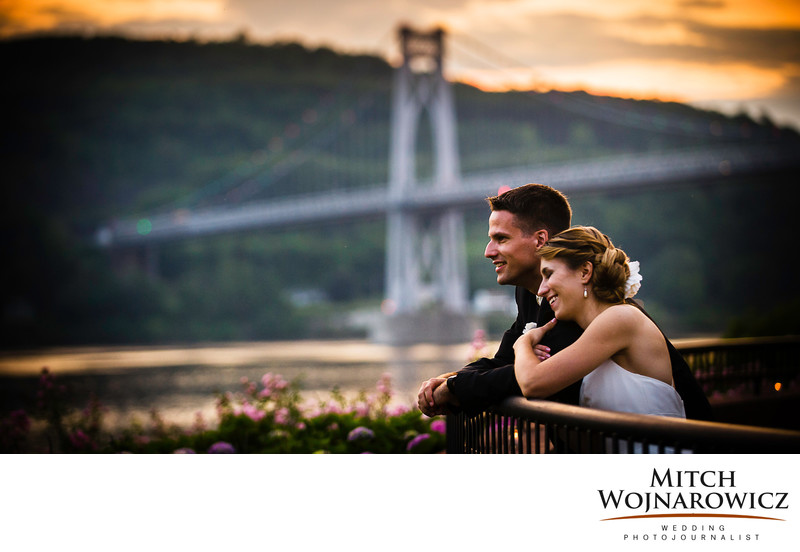 Pinterest ...
... is one resource you can use very early in planning your wedding where you can see lots of different styles to help figure out what is important to you, the style you like, the tone you want to set. Please don't use it as if it's a catalog where you choose this photo, then that photo ...

Those single Pinterest photos have been curated from great work, worldwide, and in some cases are advertising images shot under controlled studio sessions. They don't represent the depth and breadth of a real wedding day and the corresponding challenges and pressures.
I probably won't be photographing your wedding in late afternoon Southern California light on the Pacific Coast Highway. So think about what it is that attracted you to those photos and how that concept relates to YOUR wedding at YOUR venue. Articulate those concepts early in the process of commissioning a wedding photographer and it will help you hire the one who is right for you.
Why don't you use more lighting?
You don't know it ... but that's a great compliment! Many of my images, receptions, sometimes the getting ready room ... have been lit with finesse and an experienced hand. Remember my style: clean and modern. Whatever is needed will be done to make a great looking image with minimal fussing around and moving of equipment. And my cardinal rule is to never mess with great natural light. With my extensive lighting experience and abilities, I'm better able to see and use natural light to its best advantage.
Beware the "Natural Light Wedding Photographer". They are simply people who don''t have the ability to use artificial light, not some sort of artistic purists. Hire the photographer who has the biggest skill set to make great images from your day and who can handle the many, and any, lighting challenges a fast moving wedding creates.
Is there a travel fee?
Travel is free for wedding photography in:
Capital District
Saratoga Springs
Lake George Region
Southern and Central Adirondack Mountains including Lake Placid
Northern and Central Catskill Mountains
Eastern Finger Lakes
Berkshire Mountains
Hudson Valley Region
Do you require a meal?
Thank you for your hospitality. It's rare that there is time to sit down for a meal during a wedding (and I never consume alcohol on the day). To anticipate your question: Power bars, lots of them; strategically placed sandwiches; other food and drink that is readily available for a quick boost. Yes, I really go 8, 10, 12 hours this way and have done so for years. And as a former competitive and now recreational cyclist, advance-planned nutrition intake is second nature to me. So save the cost of a "vendor meal", rest assured that I'll take care of myself and I promise I won't fall over during the toasts.
Though if there is cake available ...
Contact Me Today At This Link to talk about your wedding and I'll be back in touch quickly. I look forward to talking with you!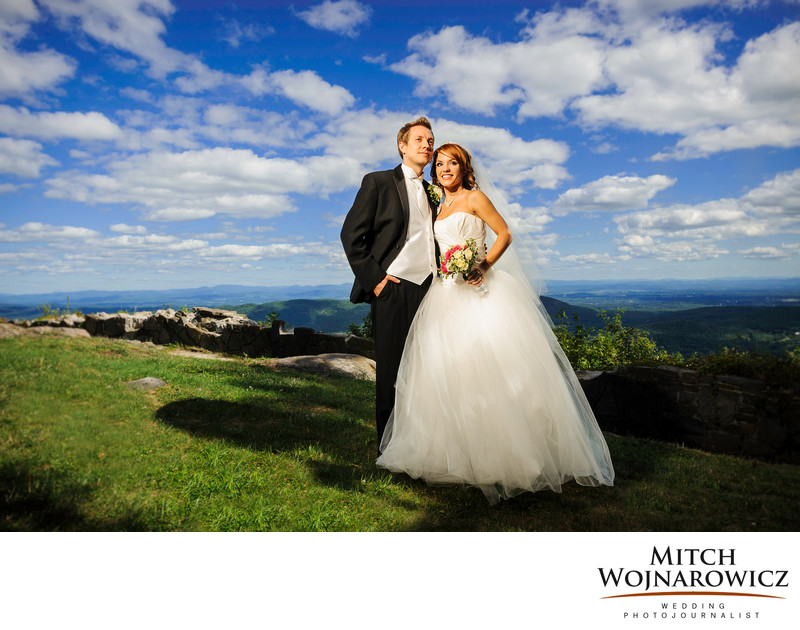 ---
---